rockwool sandwich panel production line
Update::2017-03-14 13:21 View:
Sandwich panel line is used to process the new construction material-sandwich panel machine.
This line is to assemble the steel sheet with core material.
Sandwich panel is a new multifunction construction material for construction and decoration with the advantage of insulation, fire proof and decoration.It is mainly used for public construction, like industrial workshop, supermarket, bulk warehouse, large span roof, and prefabricated house, different kinds of cold storage, air condition room, decontamination chamber, and communication base station.etc. Sandwich panel has been an ideal new construction material with the advantage of high intensity, beauty, easy to construct in a short time.
Our company has designed and manufactured the sandwich panel line depends on the international,domestic sandwich panel popularity and customer requirement. This line can process rock wool, glass wool, EPS sandwich panel:roof panel, hidden wall panel infixing wall panel and so on.
The assemble line include steel sheet uncoiling, roll forming, feeding, assembling, finished panel cutting, and transmit support arm.The whole line processing adopt the counter to remember the length, which had achieve the automatic processing with convenient operate and reliable performance.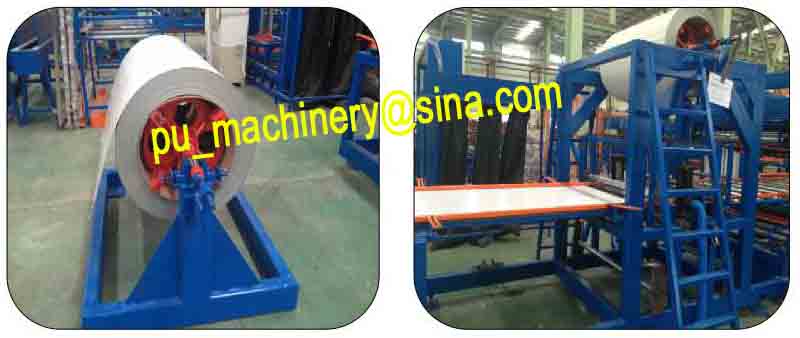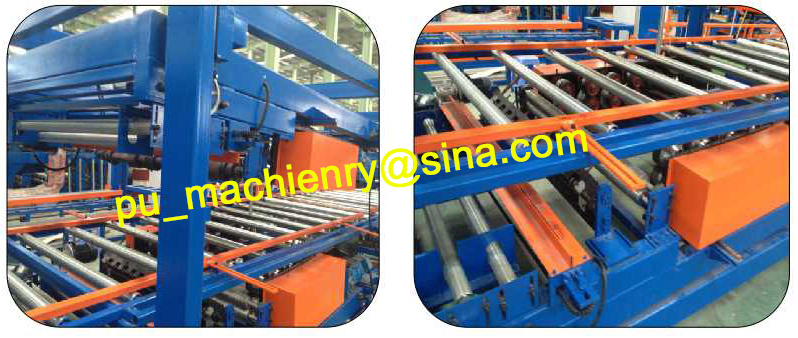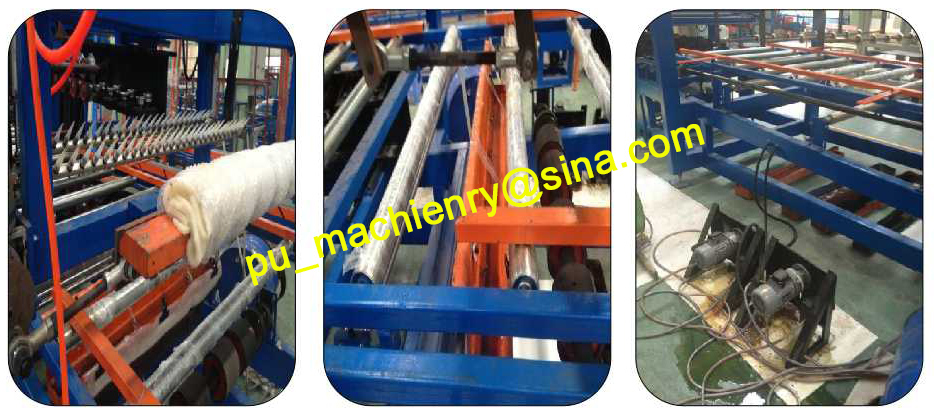 Feeding unit

No

Component

Function

1-1

Un-coiler

Put steel along with the main machine speed

1-2

Steel cut device

Cut the up and down steel sheet

1-3

Glue spread device

Depend on different panel to glue up and down

1-4

Core edge milling device

Milling the extra part

1-5

Clamp then feeding core device

Core thickness is 50-250mm,adjustable and feeding

synchronous

1-6

Feeding and transmit device

Feeding and transmit

Assemble part

No.

Component

Function

2-1

PVC Film device

Fixed PVC film stand

2-2

Automatic fixed-length

Measuring finished panel length

2-3

Glue pump

According to the proportion to supply the glue

2-4

Electric cabinet

Control Center of the hole line

2-5

Heating pipe

Adjust the working area temperature

2-6

Assemble line and transmit

Assemble and transmit

Cutting part

NO.

Component

Function

3-1

Finished panel clamping device

Clamp finished panel before cutting forward and backward

3-2

Frame automatic back device

After cutting, frame back to the original place

3-3

Cutter base

For the cutter move around

Roll forming part

No

Component

Function

4-1

2 sets roll forming machine

For corrugated sheet and hidden wall sheet

4-2

Guide rail

Roll forming machine movement

4-3

Steel sheet cutter

Cut the steel sheet after finished forming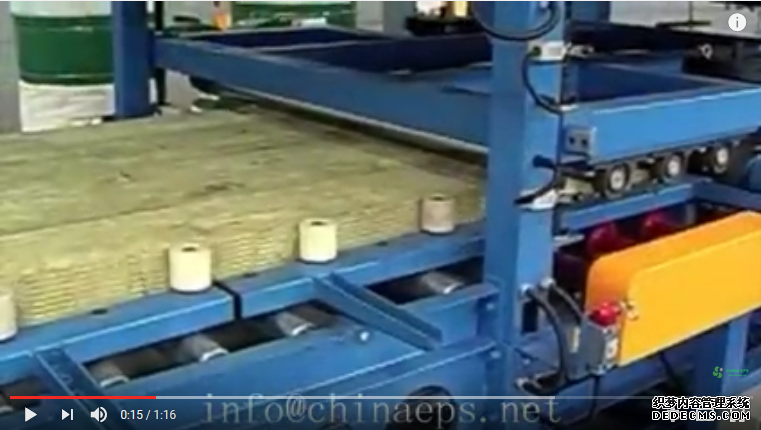 https://youtu.be/t3JDOEb9hOg